How to Choose a Life Insurance Company
It can be a struggle to choose a life insurance company. The reason why? There are more than 150 life insurance companies in Canada. With this many choices, it can be overwhelming to try to decide which company is the best for you, especially when they're all competing for your business. Below, we'll discuss what we think are some of the most important factors when it comes to choosing the best life insurance company for your needs.
Premium Price Between Life Insurance Companies
We're all trying to save a little money here and there, so it comes as no surprise that cost is the most important initial factor for many people. New technology and online quoting tools make it easier than ever to see what pricing options different companies may be able to offer, which also means that life insurance companies can be more competitive amongst themselves.
Below are a few examples of pricing for a Term 20 life insurance policy on a 40-year-old male non-smoker. As you can see, the premium cost does vary quite a bit from company to company. It's important to keep in mind that all companies offer slightly different features, even for similar types of policies, so just because the price is a little higher, that doesn't mean it might not be the best option for you.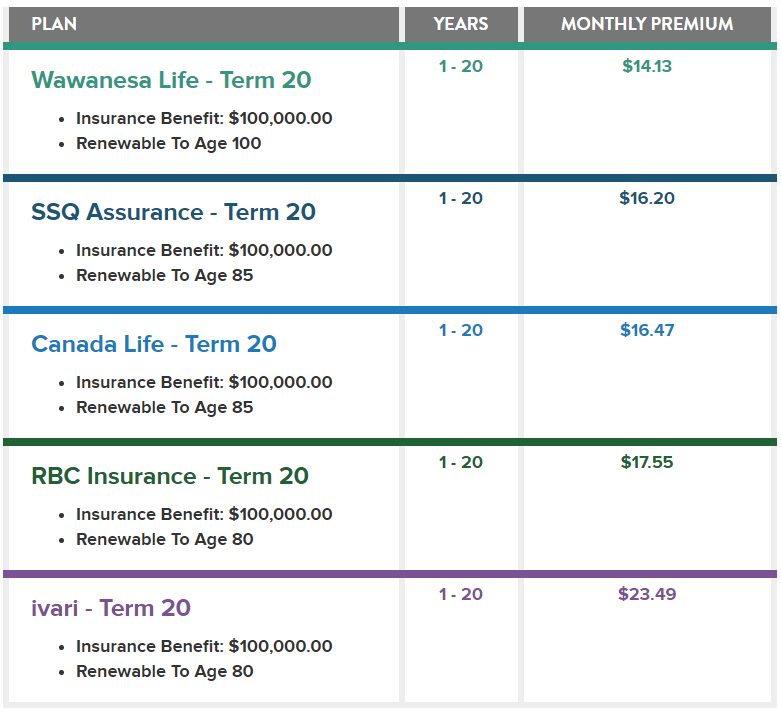 While every company is trying to offer you the best rate for their best product, we believe it's also important to keep other factors in mind when deciding which company is the best for your situation.
Stability and History
Ideally, you will want to choose a life insurance company with a demonstrated history of stability. After all, you don't want to have to worry about whether your life insurance policy will pay out to your beneficiaries when you pass away years or even decades from now – you will want to choose a company that has been around for years and isn't going anywhere soon.
Founded in 1899, AM Best is a company that issues financial strength ratings for insurance companies, measuring those companies' ability to pay out claims. The higher the AM Best rating, the more financially stable a life insurance company is. Sun Life, one of the largest insurance companies in Canada, has an A+ Financial Strength Rating as of December 2018, making it one of the top companies in the country with respect to financial stability. Canada Life, which also has an A+ rating from AM Best, was established in 1847, making it one of the oldest and highest-rated life insurance companies in Canada.
Investopedia has a great article that highlights the Top 6 Life Insurance Companies in Canada – see it here.
Technology
In today's fast-paced society, it's crucial for an insurance company to remain competitive from a technological standpoint. Everyone wants everything to be easily accessible, and life insurance applications are no exception. Most larger companies now offer online applications, with some also offering instant approval platforms – this means that you may be able to apply for and be approved for life insurance in a matter of minutes, provided that you're in good health. For example, Empire Life offers an online application called Fast & Full, while Canada Life offers Simple Protect. With just a few medical questions, a licensed representative can determine if you qualify for these simplified applications, which can result in nearly instant approvals for certain types of life insurance policies.
Product Shelf
One of the most important factors to consider when choosing a life insurance company is their product shelf. Not all companies are created equally, and even those with consistently high ratings have very different product offerings. Depending on your unique situation and your insurance needs, certain companies may be better for you than others.
For example, if you're purchasing a life insurance policy on a child, you may be interested in a feature known as a guaranteed insurability option. This option gives the policyowner periodic opportunities to purchase additional life insurance on the life insured without the need for additional medical evidence of insurability. This can be especially useful in situations where the life insured develops medical problems after the initial policy is issued. However, not all companies offer this benefit, so it's important to know before you buy.
Depending on the type of product you're looking for, certain companies may not measure up. For instance, if you're planning to purchase term life insurance, you will want to investigate which term lengths different companies offer. Some companies provide only term lengths of 10 or 20 years, while others offer a much wider range. Another point to consider with respect to term insurance is the possibility of conversion. You may be able to convert your term life insurance policy to a permanent one, and if this is something that you may want to do in the future, it's important to know what a company offers when it comes to permanent products as well. Permanent life insurance policies vary widely with respect to riders, additional benefits, features and options, so it's best to identify your unique needs before choosing a life insurance company.
Broker/Client Relationship
When it comes to choosing who you'd like to work with for your insurance needs, we believe that the single most important factor is the relationship between the client and broker. We want our clients to feel comfortable and confident dealing with us, and that's why we, as licensed and unbiased brokers, explore all the options available before making our recommendations. NorthWise has over 30 years' experience providing personal financial planning, and we believe that our history speaks for itself. We pride ourselves on putting our clients first, and making sure their unique needs are met above all else. We can make sure you find the company that checks all the boxes that are most important to you, whether it's the most stable, the lowest-priced, or the most diverse product offering, let us do the detective work for you and help you make the best decision.
About the Author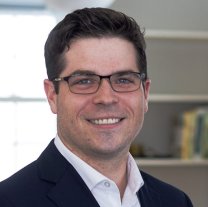 Jordan Richardson, B.Sc, LLQP, QAFP™
Founder - NorthWise Insurance
Jordan was born in London, Ontario, but has lived all over the province, spanning from Windsor to Sudbury. He graduated with Honours, Bachelor of Science (B.Sc.) in 2013 from the University of Waterloo, and quickly pivoted away from science and to the financial services industry. Jordan acquired his Life Licence Qualification Program (LLQP) in 2014, and more recently obtained the Qualified Associate Planner (QAFP) certification. Jordan is currently one exam away from his Certified Financial Planning (CFP) designation, and the Chartered Life Underwriter (CLU) designation. With early success in the financial service industry, Jordan quickly was thrust into management roles, specializing in team building through creating great work culture, and in digital marketing strategies. These skills were utilized in the creation of NorthWise Insurance, where the goal is geared towards an omnichannel advice platform that offers a wide range of financial products, all available digitally.
Jordan is engaged, and has two beautiful daughters. He is the Chair of the Young Professionals Association (YPA) of Sudbury, and mentors a little brother in the Big Brothers, Big Sisters Program. When Jordan isn't working or with his family, you can find him on the golf course or playing basketball.