Life Insurance Calculator Made Easy.
Finding the right policy and coverage can be intimidating, but it doesn't have to be. You can use our life insurance calculator to:
✔Calculate the amount of coverage that meets your needs.
✔Compare rates from all the best insurance companies – we are independent brokers.
✔Consult a professional and get expert advice.
NorthWise Insurance is an independent broker of Life Insurance in Ontario.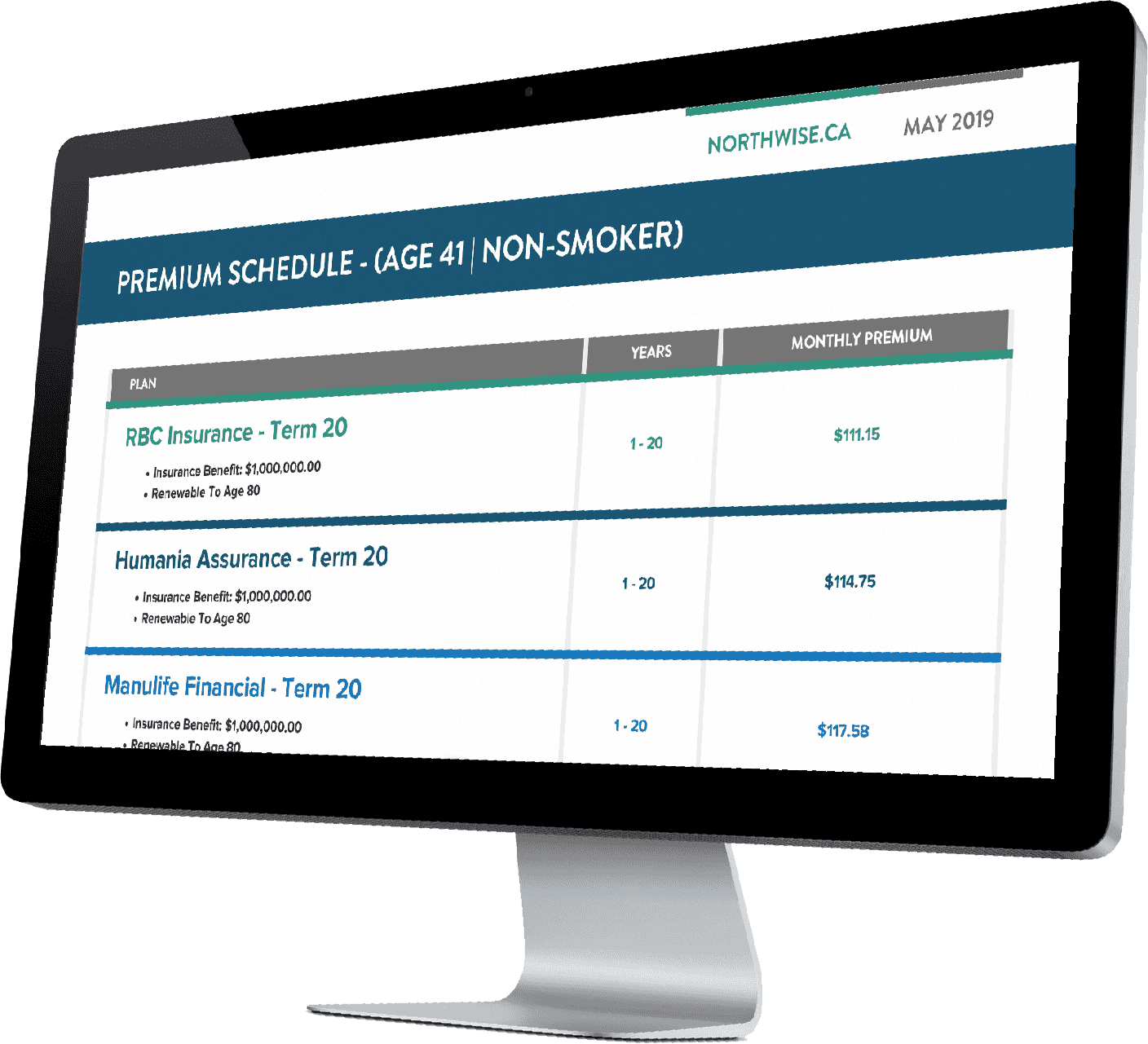 Already know what you want?

Calculate
Don't know how much coverage you need? That's OK, use our tool to find the right amount and the best type of policy for you.

Compare
Don't have time to call 20 companies? Search virtually every company in Ontario instantly.

Consult
Don't know everything? We know insurance is a 10+ year commitment, our team is here to help you make the best decision possible.
Quick Quote or Detailed Analysis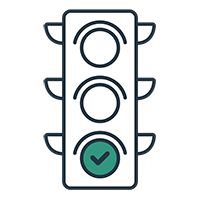 Know how much of a policy and coverage you need? Great, go right to our quote page.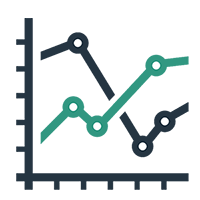 Don't know what amount or type of policy coverage to get? We got you, use our handy Life Calculator tool to see what a financial planner would recommend to you.
What type of policy are you looking for?
Term Insurance
This type of policy is best suited to protect short term needs such as mortgage protection or income protection. You do not keep your term life insurance coverage forever, but term policies features low premiums.
Whole Life (Permanent) Insurance
One of the only guarantees we have is that we will eventually pass away. Whole life (permanent) insurance coverage is for keeps your entire life. Can cover final expenses, things like capital gains, or be used for estate planning.
Universal Insurance
This permanent policy is the most flexible type. It can be used as a Term 100 policy as well. You can pay the minimum premium or contribute more additional funds into your universal life insurance coverage that are deposited into an investment account that grows on a tax-free basis. 
No-Medical Insurance
Do you have a medical condition that has made getting coverage tough, or do you simply not want the hassle of needles and nurse appointment, no medical life insurance coverage is a perfect option. With just a medical questionnaire to get coverage, this convenient and increasingly popular option allows more people than ever access to coverage and protection. 
Senior Insurance
Recently retired or a retiree in need of the right policy and coverage? We excel in finding solution for our senior clients by partnering with companies that offer competitive specialized senior life insurance coverage.  
Mortgage Insurance
Many people opt into this type of mortgage life insurance policy provided through their lender, and unfortunately this is NOT good idea. Having an individual policy to cover your mortgage is better for a variety of different reasons. Ask us why!
Why are people flocking to online insurance?
Choice, flexibility, and convenience. Gone are the days where one company has the best of everything. Let us take care of your due diligence and find the right coverage with the right company. Get started by taking our policy and coverage quotes tool and receive a free quote.
What type of policy do you need?
There are many different types of policies to choose from, with different protection and investment features. For some, a term-based policy might be best, while others might benefit more from a universal and permanent policy. Some people's needs might best be met with a combination of types. Use our financial planning tool to figure out the best solution for your specific needs.
How much coverage do you need?
It may be more than you think. To your loved ones, you're priceless. Use our handy calculator to help determine the best amount of coverage to meet your needs and protect those who are most important to you.
In 2016, 20.3 billion in insurance premiums were paid to 91 providers. With 91 providers trying to win your business, it can be painstakingly difficult to sort through them all and find the best company. Let us make this as easy as possible for you!
$4.5T Life Insurance Coverage

$20.3B – 2016 Life Insurance Premiums

22M Canadians Own Life Insurance

91 Life Insurance Providers
Expert Advice
As licensed, independent insurance brokers, we are free to choose from dozens of insurance companies. We evaluate their plans and processes, and then make the best recommendations for your needs. We can explain in plain terms all the details about whole life, term life, universal life, cash value, dividends, investment methods, tax considerations, estate planning, and so much more.
Licensed Brokers
Knowledgeable – Our team is made up of licensed insurance advisors that keep up-to-date with the insurance world.
Technology Driven – We have the tools in place to make sure your plan is foolproof. Take our insurance coverage calculator tool, for example. 
Confidential – All conversations with our team are strictly confidential.
Service For Life – Finding a policy is the first step. We want to have a lifetime relationship with you and your family to provide much needed protection.
Our Promise
We understand that choosing life protection is a sensitive and deeply personal topic. We are dedicated to our clients, ensuring that we always put their best interests first. We don't want to sell you any policy – we want to help you meet your needs in the best, most convenient, and most cost-effective way.
 Jordan was born in London, Ontario, but has lived all over the province, spanning from Windsor to Sudbury. He graduated with Honours, Bachelor of Science (B.Sc.) in 2013 from the University of Waterloo, and quickly pivoted away from science and to the financial services industry. Jordan acquired his Life Licence Qualification Program (LLQP) in 2014, and more recently obtained the Certified Financial Planning (CFP) designation. With early success in the financial service industry, Jordan quickly was thrust into management roles, specializing in team building through creating great work culture, and in digital marketing strategies. These skills were utilized in the creation of NorthWise Insurance, where the goal is geared towards an omnichannel advice platform that offers a wide range of financial products, all available digitally.
Jordan is engaged, and two beautiful daughters, and one son. When Jordan isn't working or with his family, you can find him on the golf course or playing basketball.
Gary Choy, B.A.Sc., LLQP, CLU, CFP™
Managing Partner + Certified Financial Planner
Gary was born in Guyana and immigrated to Toronto, Ontario when he was 13 years old. Gary received his Bachelor Applied Science in Engineering degree in 1982. After four years working with Texaco as an engineer, Gary realized he was looking for a career where he could interact and help people on a daily basis, and he started with London Life as a life insurance advisor in 1986, successfully acquiring his Life License Qualification Program (LLQP). He completed his Chartered Life Underwriter (CLU) and Certified Financial Planner (CFP) designations shortly thereafter starting with London Life and has loved every minute as a financial planner. Gary is also heavily involved in Rotary, and plays many sports including soccer and basketball.
Jasmine left Sudbury to pursue her Bachelor of Science (B.Sc.) at the University of Waterloo. She was drawn to the financial service industry by her love of helping others, and from witnessing her father build a successful practice in the industry throughout her life. Jasmine has been working as an advisor since 2014, successfully obtaining her Life Licence Qualification Program (LLQP). She is currently working towards her Certified Financial Planner (CFP). Jasmine was born and raised in Sudbury, ON, and has two young daughters who she raises with her partner Jordan in the same city where she grew up. She is on the board of directors for the Montessori School of Sudbury, and SheMatters, a community for survivors of sexual violence. Jasmine loves interior design, wine & food, and is very focused on building a better tomorrow for her girls.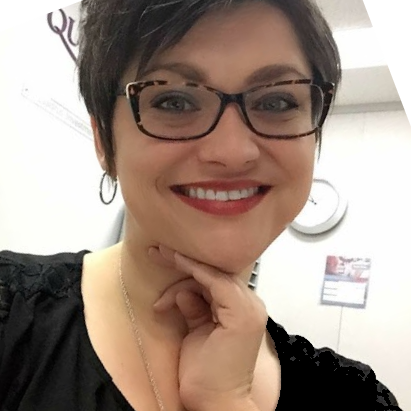 Hilary Simpson, B.A., M.A., ACS, ALMI
Marketing Associate + Social Media Coordinator
Born and raised in Sudbury, Hilary attended Laurentian University where she graduated from the Modern Languages & Literatures program with a major in Italian and minors in Spanish and Latin to earn her Bachelor of Arts (B.A.). She then completed her Master of Arts (M.A.) degree in Italian Studies at the University of Toronto. Hilary began her career in the financial services industry as an Administrative Associate with Freedom 55 Financial in 2014, and first began working with the NorthWise team in 2018. She has obtained her Associate, Customer Service (ACS) and Associate, Life Management Institute (ALMI) designations from the Life Office Management Association, and is currently working on obtaining her life license.
Hilary is passionate about books and, when not in the office, she can often be found immersed in her home library.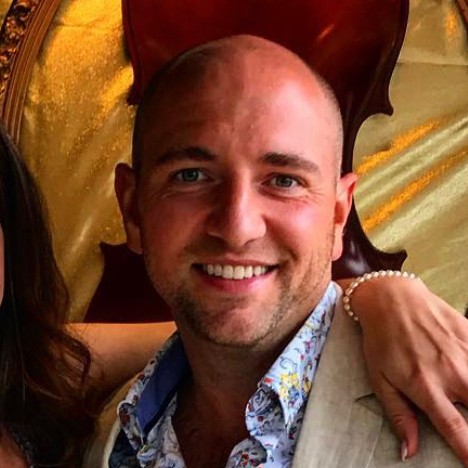 Ben Ainscough, LLQP
Insurance Advisor
Born and raised in British Columbia, Ben has 15 years experience in the life insurance industry. He was the regional director with his previous insurance company, running the office in Kitchener, ON. Now back in BC, he resides with his wife and dogs, with a new baby on the way! Ben was the BC Junior golf champion back in 2001 and is a low single digit golfer. He is a lover of dogs, nature, and the Blue Jays.
NorthWise Reviews
What our clients are saying about us
Is it less expensive to buy insurance directly from the insurance companies?
Canadian law regulates insurance premiums according to national standards, so whether you buy directly from the company or through a licensed broker like NorthWise, premiums are the same. We get compensated by the insurance company, so you get free, unbiased, expert advice from us for the same price.
Can you help if I already have a life policy?
Yes, we can! If you want to review your policies, adjust your coverage, or make other changes, we would be glad to assist. We can even take over servicing your existing policies to help serve you better.
How do I know if I have enough life insurance?
Ask us for a free review to make sure your existing insurance policy meets your needs. If you feel you're paying too much in premiums or you need more coverage, we have the expertise and the experience to find the best solution for you.
What happens after I buy insurance?
We'll be here to help any time you need us, from the application process, to policy issue, and beyond. For more than 30 years, we've been helping our clients navigate many challenges and opportunities they face.
When do I need to get life insurance?
Often, people start thinking of life insurance when a major event occurred – think getting married, buying a home, having a child, and many other situations. If you're not sure whether you need it or if it's the right time for you, just ask! We'd be glad to review your situation and make our recommendations.
Am I too old to buy life insurance?
There are life insurance policies that are designed for older adults. Everyone's situation is different, but we're confident that, no matter your age, we can help you find the right policy for you at the right price. 
Why should I buy coverage when I'm young?
Buying life insurance as a young adult can mean locking in a lower premium rate. Also, you can build cash value in a life insurance policy that you may be able to access later in life. 
How do I get more information?
Request a quote online, use the live chat feature on our site, or give us a call so we can get started on the perfect plan for your needs.
Privacy Policy and Protection of Confidential Information
Your privacy and protecting your information are of the utmost importance to us. All of our communications with clients are confidential. We follow best practices for the protection of your information with state-of-the-art secure physical and digital storage systems. Please see more information on or Legal, Privacy, and Terms of use pages found at the bottom of this webpage.
Let Us Help You Grow and Protect Your Family
Fill out a few bits of info and we'll be in touch soon!
Disclaimer: Insurance companies and financial institutions pay us if you buy any insurance, investment, or lending product. Terms and conditions apply between you and the provider of the product - please be sure to review them. The content provided on our site is for information only; it is not meant to be relied on or used in lieu of advice from a professional. Partners are not responsible for the accuracy of information on our site. For comprehensive and updated information on any product, please visit the provider's website.  Our blogs, quoting tools and calculators are available 24/7, free of charge, and with no obligation to purchase. To learn more, visit our About us page.